Step-by-Step Texture Quilting with Christina Cameli
Using pictures from members, Christina Cameli will make design suggestions to quilt the top. Members can send their quilt top pictures to Phyllis B. to include in the presentation.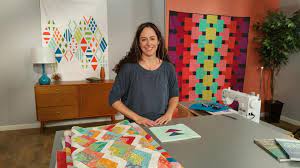 Christina Cameli is an enthusiastic quilting teacher and nurse-midwife. After being introduced to quilting by her grandmother, she learned free-motion quilting and over the next decade began teaching classes and writing books. She lives with her children in Portland, Oregon.  For more information on Christina, visit her website and/or watch a few of her YouTube videos.