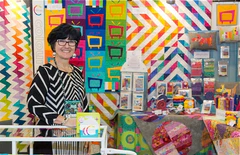 Colorwerx Virtual Trunk Show with Linda Sullivan
Who would have guessed that two professionals from television would discover their life long passion in quilting and go on to create new careers, own a quilt shop and design a line of best selling patterns? In this one hour lecture, Linda – along with her partner, Carl – will take you on their colourful, crazy, quilty journey that started some 18 years ago with the very first Linderella quilt designs to their current obsession for pure colour within their newcompany, Colourwerx. Lots of show & tell and lots of quilts!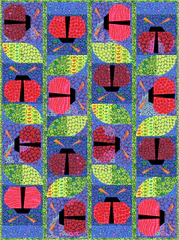 Boost your colour confidence and learn to use every colour of the rainbow in your quilts. Linda and Carl will discuss the basics of colour theory, demonstrate colour concepts and how to create and combine dynamic colour palettes, as well as share their tips and tricks on how to find colour inspiration in everyday objects to inspire, infuse and ignite the colour in your next quilting project.