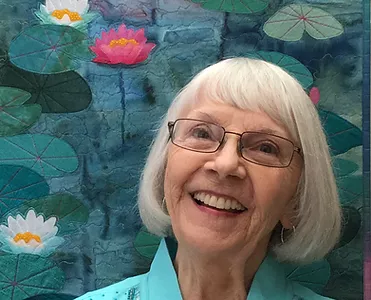 Award Winning Landscape and Nature Quilts
Award winning collage quilter, Sue Siefkin from Modesto, California, will be speaking to us on her approach to making landscape quilts.  "I love streams, trees, tide pools, river rocks , flowers, and the lichen and moss-covered boulders I discover in parks, gardens and in the wild. I try to evoke the magic of these hidden places in my artwork with fabric, thread and paint." She is drawn to cool, quiet, natural places.
Sometimes Sue begins with photographs, other times from memories, real or imagined. She works on just one composition at a time in her studio, using dyes, paints and inks to create or alter fabric for my desired palette. Layering and fusing fabric from background to foreground, she tries to achieve the illusion of depth, volume and complexity. The free motion machine stitching is the final step, creating contour and texture. 
The artist's hope is that on seeing the finished pieces the viewer will experience a sense of discovery and shared wonder that in turn evokes his or her own memories of hidden places.
https://www.suesiefkin.com